60cbm Carbon Steel 30tons Elliptical LPG Tanker Semi Trailer
Product Description
Semitrailer is a special trailer for transporting liquefied gas such as propane, propylene, ammonia, and other liquefied gases. We provide LPG semi trailer from 23.97m3 to 59.6m3.low transport costs, more profit. Our company also provide LPG storage tank volume from 5m3 to 120m3.both ground and underground.
Specification
LPG Tank Trailer Specification
Volume of Tank
60000Liters
Overall Dimensions(L*W*H)(mm)
13000*2500*3990
Tank Dimensions
(Inner Diameter*thickness*Length)
2478*11*12791
Estimated Tare Weight (kg)
15430
Payload(kg)
24570
Total Weight(kg)
40000
Wheelbase(mm)
7230+1310+1310
Shell of Tanker
Products
Liquefied Petroleum Gas (propane)
Fluid Property
Flammable
Design Temperature(ºC)
-19ºC~50ºC
Design Pressure(MPa)
1.61
Corrosion Allowance(mm)
1.00
Weld Joint Factor
1
Major Materials
Tanker body:Q345R,11mm,
End plate:Q345R,11mm,double ellipse
Main beam:16Mn
Quality Control Process
Heat Treatment
Overall treatment in a furnace,600ºC to 640 ºC
Riagraphic Test
100% X-ray Detection
Test Pressure(MPa)
1.61
Hydraulic Test(MPa)
2.21
Magnaflux Inspection
For Pipe & flange connection
Manhole (As Customer's Requirement)
Quantity
1 on the top ,DN450/DN500
Safety Valve(As Customer's Requirement)
Quantity
1
Location
On the top of tanker
Size
DN100
Level Gauge
3*13T Fuwa
Type
Manuel Switch type / ROTO Gauge
Location
At the rear of the end plate
Running System
Axles
3*13T BPW Axles
Tire
12R22.5 Tubeless tire ,12 pcs plus one spare tire
Landing leg
JOST
King Pin
#50(2") or #90(3.5")
Product photo for reference: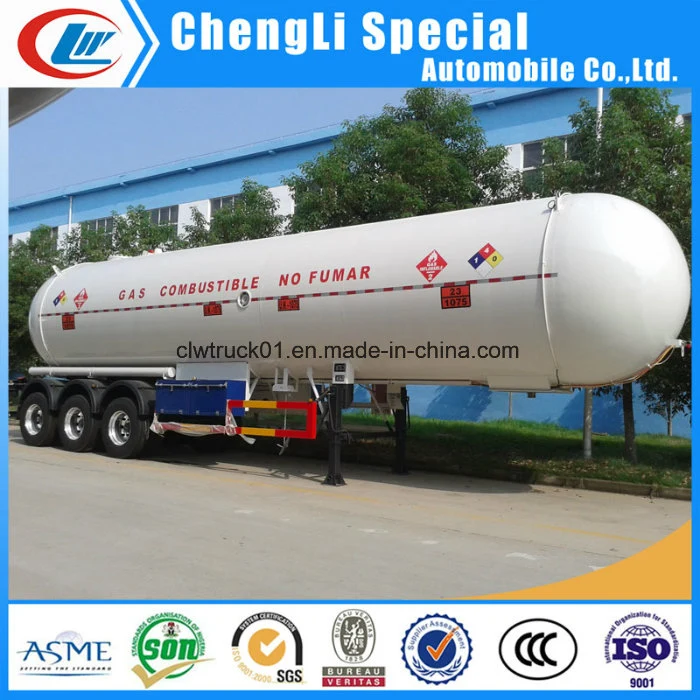 Details parts: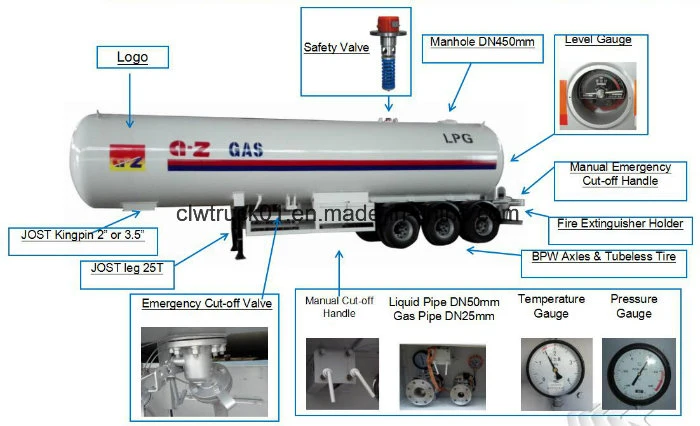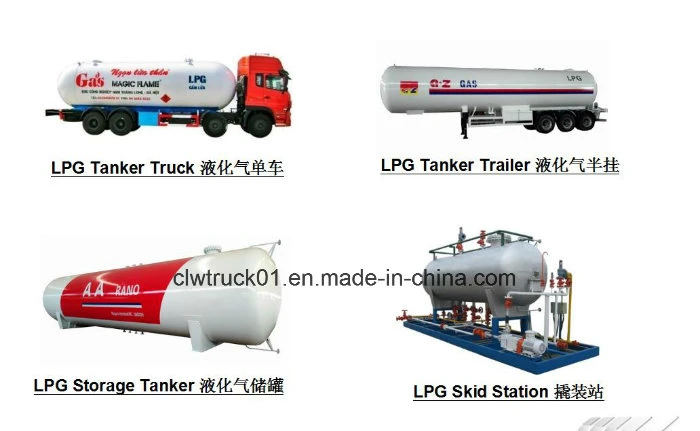 Company Information
ChengLi Special Automobile Co., LTD
is a manufacturing group located in SuiZhou City, HuBei Province, China.
1. Our factory is a professional truck & tanker manufacturer with more than 12 years experience in China.
2. There are totally 8000 workers, include 100 senior welder and 15 senior engineers.
3. More than 300 type of products supply.
4. Our sales volume of 2015 reach US$300 million.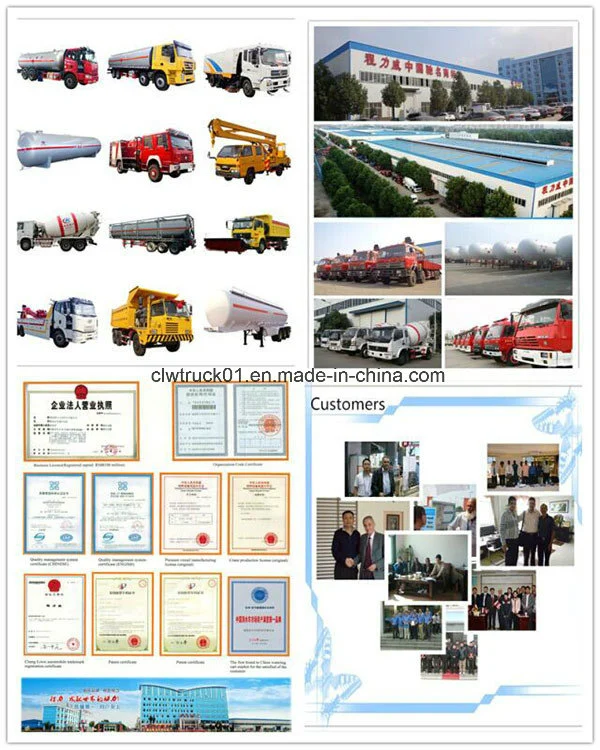 Our Services
1. One year quality warranty for key parts such as axles, engine, transmission;
2. All spare parts would be OEM and supplied at cost prices
3. Overseas service center to ensure efficiency after-sales service;
4. Regular after-sales visit to collect information about the vehicle's working status and feedback from customers.


Packing and Shipping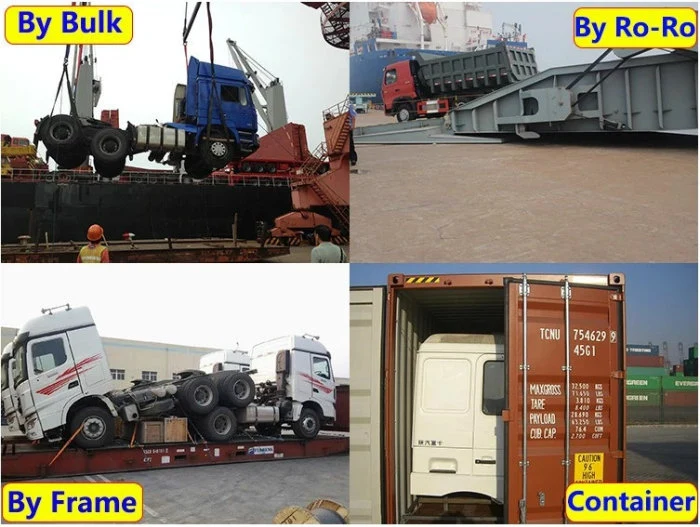 Other Products

1. Dump Truck / Tipper Truck/Side Tipper/End Tipper
2. Fire Fighting Truck / Fire Truck / Fire Vehicle / Fire Engine
3. Truck with crane / Truck mounted crane
4. LPG Tank Truck Trailer/Oil Tank Truck / Fuel Tanker Truck
5. Water truck / Water Tank Truck / Water Sprinkler Truck
6. Concrete Mixer Truck
7. Van truck / Insulated truck/ Refrigeration truck
8. Fecal suction truck / Sewage suction truck,
9. Cement Powder Tank truck/ Bulk cement truck
10. High-altitude operation truck,
11. Self-loading garbage truck, garbage compactor truck, sealed garbage truck,
12. Semi Trailer ( flat bed trailer / skeleton trailer / dump semi trailer / side wall trailer / low bed trailer / van container trailer / warehouse trailer, etc. )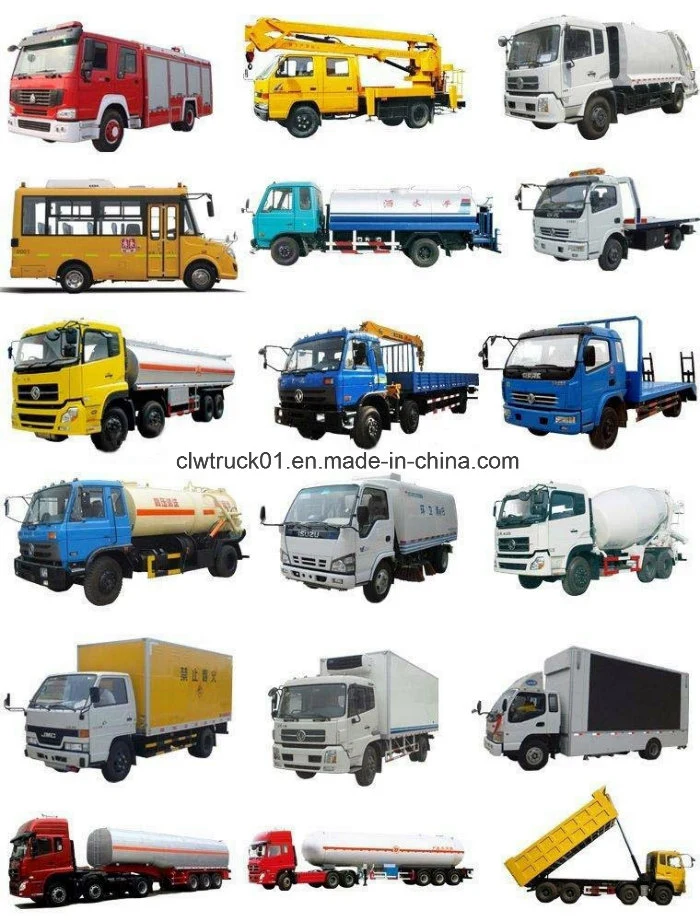 Contact Information
Ms. Emma
Mobile( ): +8615377649171
Customised Truck & Trailer Solutions to Meet Your Requirements